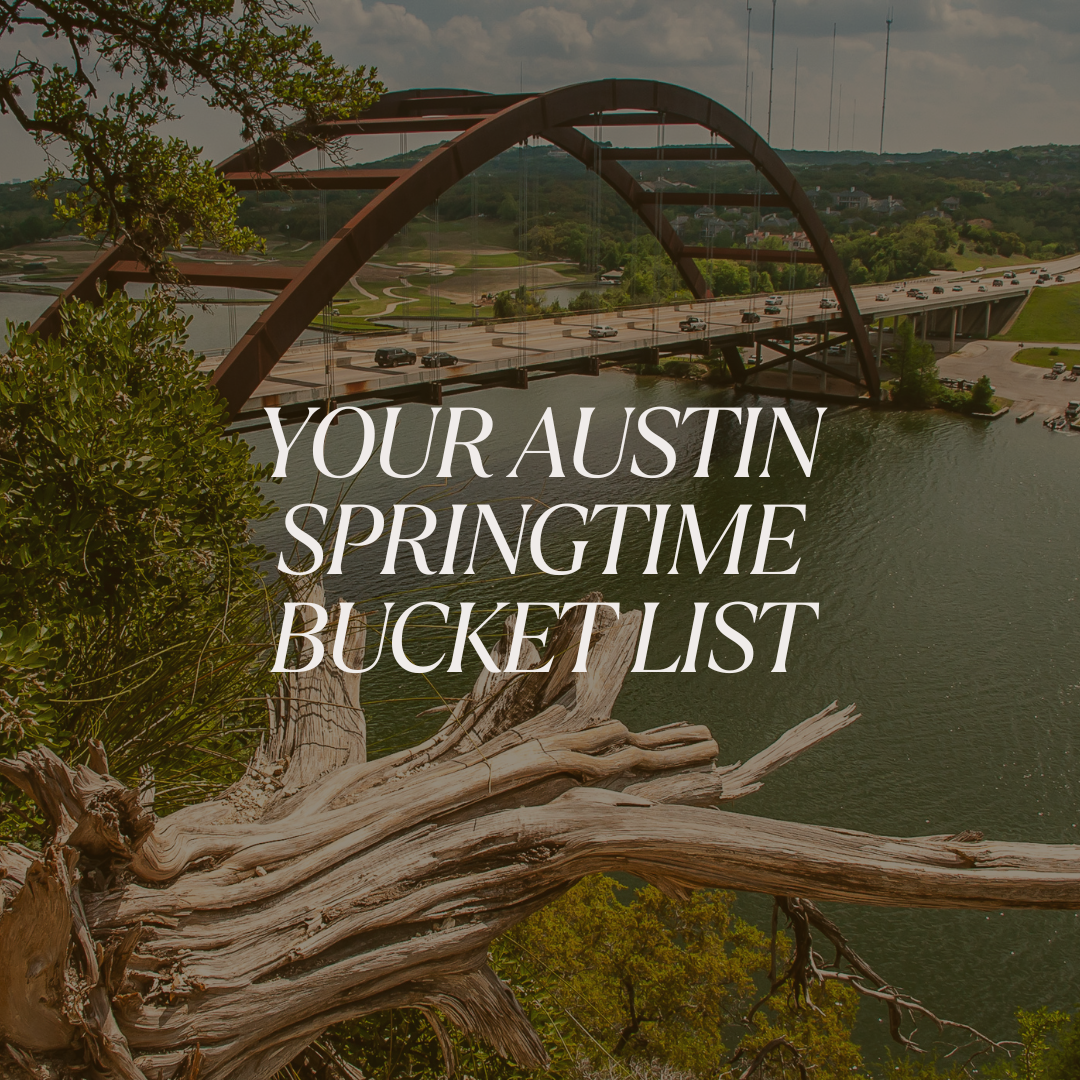 The temperatures are rising and the flowers are in bloom. It's the perfect time to start planning your spring bucket list. Whether you're looking to explore new places, try new things, or simply take a break from your daily routine, here are some ideas to add to your spring bucket list.

Visit a botanical garden: Spring is the perfect time to see all of the beautiful flowers and plants in bloom. Head to Zilker botanical garden and spend a few hours wandering through the gardens and taking in the native plants and smells.


Take a hike: Get outside and explore some of the beautiful trails along the greenbelt. Whether you're a seasoned hiker or just starting out, there are plenty of trails that offer a variety of difficulty levels and scenery.

Have a picnic: Pack a basket with your favorite snacks and head to a nearby park for a picnic. You can relax on a blanket, read a book, or simply enjoy the sunshine. Don't forget to bring a frisbee or ball to toss around!

Attend a farmers' market: Spring is the season for fresh produce, and farmers' markets are a great way to support local farmers and get your hands on some delicious fruits and veggies. Many farmers' markets in Austin also offer artisanal goods, like fresh-baked bread or homemade jams. Grab a coffee and take a stroll through the market to see what's in season. Click here to browse markets in Austin.

Plant a garden: Skip the market and start your own garden. Whether you have a small balcony or a large backyard, you can plant herbs, vegetables, or flowers to brighten up your space. Gardening is a great way to get outside and connect with nature, and you'll be able to enjoy the fruits of your labor all summer long.

Take a road trip: In need of a change of scenery? Hit the road and explore new places. Take backroads along the countryside or head south to the coast. Whether you want to get away for a long weekend or only have time for a day trip, The options around Austin and throughout Texas are limitless.

Grab a brew: Austin is home to some of the nation's best breweries. Take advantage of the proximity and head to one of Austin's family-friendly breweries including Jester King Brewery, Family Business Beer Company, Austin Beerworks, and more.