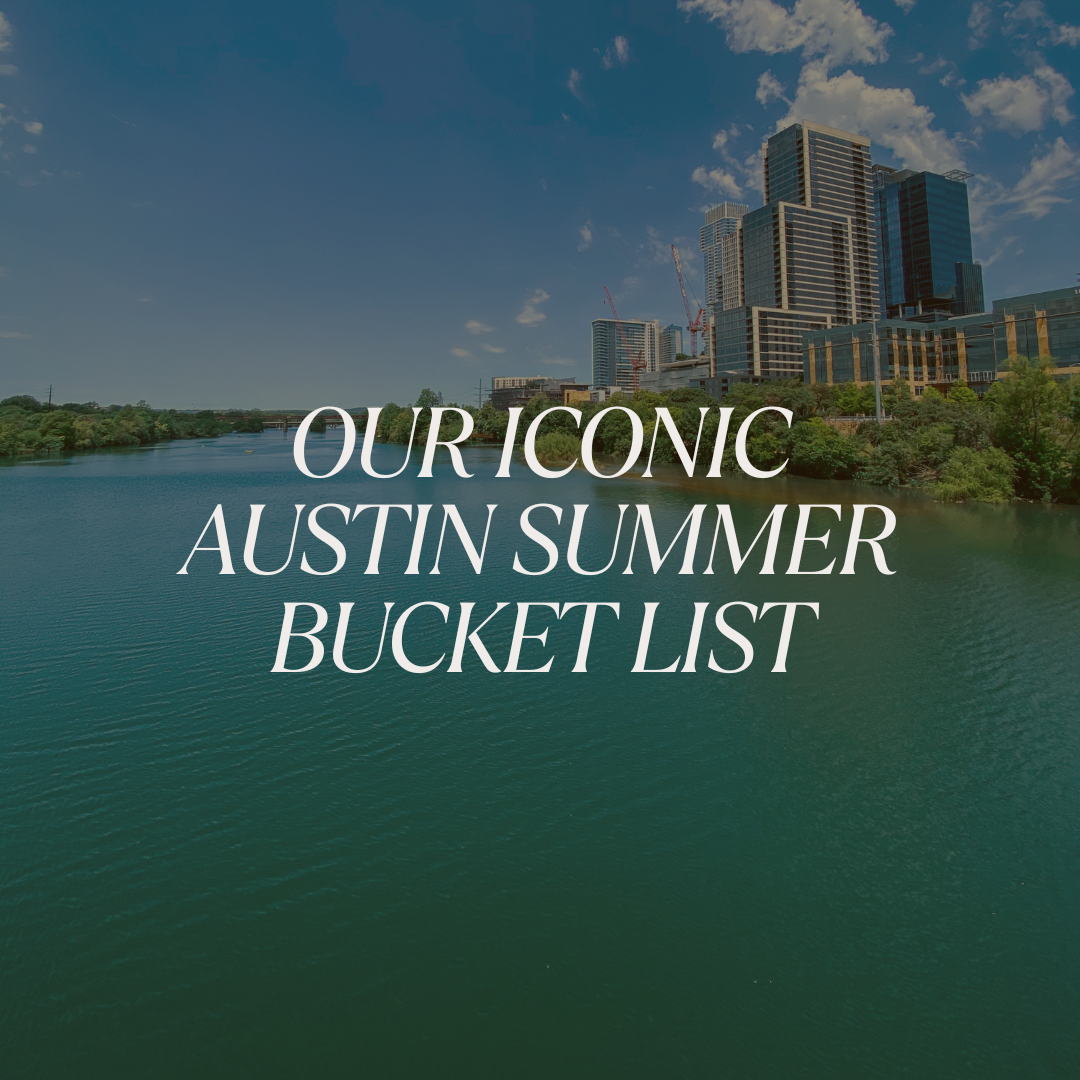 With its vibrant culture, beautiful landscapes, and endless opportunities for outdoor exploration, Austin is the perfect destination for an unforgettable summer adventure. Whether you're a local resident or planning a visit to the Live Music Capital of the World, we've compiled an exciting summer bucket list to help you make the most of your summer in Austin. From taking a refreshing dip in Barton Springs to enjoying live music under the stars, this bucket list is filled with activities that will leave you with cherished memories and a true taste of Austin's unique charm.

Dive into Austin's Natural Springs
Head to the iconic, spring-fed pool, Barton Springs Pool. Take a dip in the cool, clear water or simply bask in the sun on the grassy banks. For a more secluded experience, explore the lesser-known gems such as Hamilton Pool Preserve and Krause Springs. These natural wonders offer breathtaking views and picturesque swimming holes that are sure to leave you in awe.
Explore Lady Bird Lake and Don't Miss the Bat Show
Rent a kayak, canoe, or paddleboard and set off to explore Lady Bird Lake, a serene reservoir located right in the heart of Austin. Paddle along the water, taking in the stunning skyline views while immersing yourself in the tranquility of nature. Keep an eye out for the famous Congress Avenue Bridge, home to the largest urban bat colony in North America. Witnessing the bats emerge at sunset is a truly magical experience.
Embark on a Hiking Adventure
Escape the city buzz and embark on a hiking adventure in the beautiful Austin surroundings. Head to the Barton Creek Greenbelt, which offers over 12 miles of scenic trails, limestone cliffs, and hidden swimming spots. For a challenging yet rewarding hike, visit the Mount Bonnell Trail. Climb the 100-plus steps to reach the summit and be rewarded with breathtaking panoramic views of the city and the Colorado River.
Catch Live Music in Iconic Venues
As the Live Music Capital of the World, Austin boasts a thriving music scene that comes alive during the summer months. Catch a live performance at iconic venues like Stubb's BBQ, Mohawk, or The Continental Club. From blues and country to rock and indie, Austin's music scene offers something for every taste.
Soak up Culture at Museums and Galleries
Austin is rich in cultural experiences, so take some time to explore its museums and galleries. Immerse yourself in contemporary art at the Blanton Museum of Art or experience the fascinating exhibits at the Bullock Texas State History Museum. For a dose of weirdness, visit the quirky Museum of the Weird or explore the vibrant street art scene in East Austin.
Our summer bucket list is a testament to Austin's diverse and vibrant offerings. From natural wonders to cultural experiences, the Live Music Capital of the World has something for everyone. So, grab your sunscreen, put on your adventure hat, and get ready to make unforgettable memories in the heart of Texas. Whether you're a nature lover, food enthusiast, or music aficionado, this bucket list will ensure you have an incredible time exploring our dynamic city.