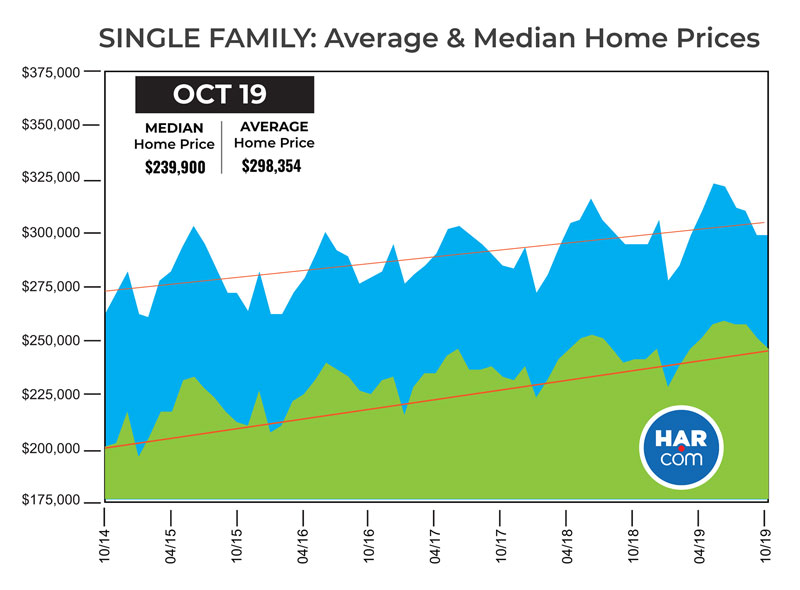 Home sales rise for a fourth straight month as mortgage interest rates remain low
HOUSTON — (November 13, 2019) — Continued low mortgage interest rates kept consumers in a buying mood in October, powering home sales to a fourth consecutive positive month. According to the latest monthly report from the Houston Association of Realtors (HAR), sales of single-family homes across the greater Houston area totaled 7,231 in October. That is up 8.1 percent compared to a year earlier. On a year-to-date basis, home sales are 4.2 percent ahead of 2018's record volume, making it ever more likely that 2019 will establish a new record for local real estate.
Homes priced between $500,000 and $750,000 led the way in sales, climbing 13.0 percent versus October 2018. That segment was followed closely by homes in the $250,000 to $500,000 range, which rose 12.9 percent. The luxury segment, which is made up of homes priced from $750,000 and above, was unchanged year-over-year.
Single-family home prices set new October highs. The median price (the figure at which half of the homes sold for more and half sold for less) increased 2.1 percent to $239,900 while the average price rose 1.3 percent to $298,354. Despite the record prices, the increases are among the smallest of 2019 and reflect signs of pricing moderation as the year draws to a close.
In addition to the incentive that lower mortgage rates create, buyers benefited from a slightly larger supply of homes on the market with housing inventory up to a 4.0-months supply in October versus 3.9 months in 2018. So far this year, the peak inventory was reached in June and July when it grew to a 4.3-months supply.
Sales of all property types climbed 6.2 percent in October, totaling 8,579 units. Total dollar volume rose 7.9 percent to $2.4 billion.
"Consumers continue to take advantage of attractive buying conditions, between low interest rates, a healthy supply of homes on the market and a strong overall Houston economy," said HAR Chair Shannon Cobb Evans with Better Homes and Gardens Real Estate Gary Greene. "Interest rates are currently forecast to remain low into the new year, so it's possible that we get through the holidays without too much of a seasonal slowdown in home sales, but we'll just have to see how things go."
The 30-year fixed mortgage rate fell slightly to 3.69 percent the week ending November 7, approaching levels last seen in November 2016, according to figures released by Freddie Mac. It was 3.78 percent the prior week and 4.94 percent a year ago.