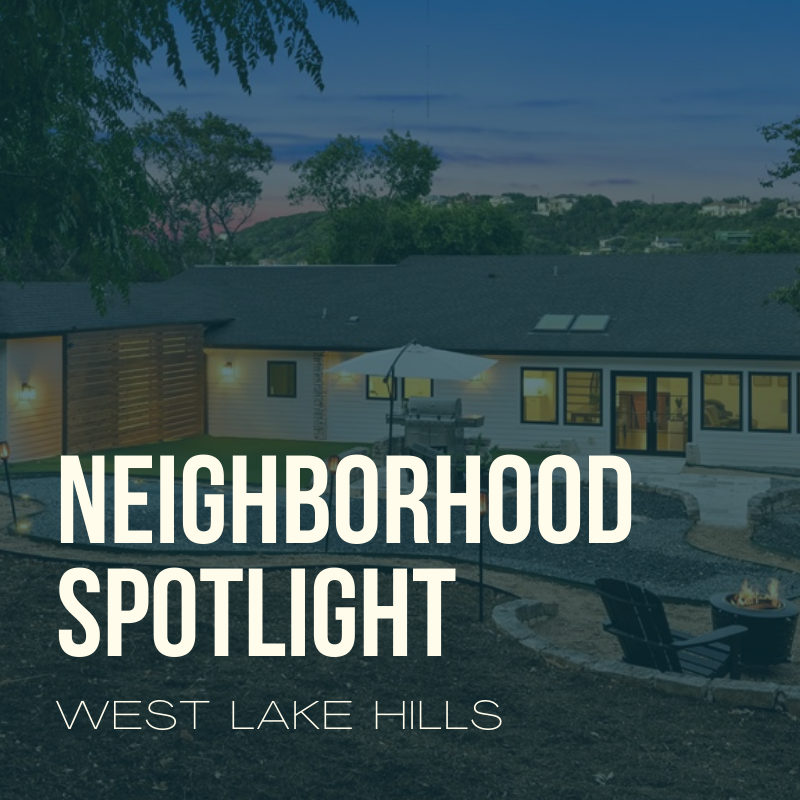 Known for its beautiful luxury homes, hill country landscape, and family-friendly atmosphere, West Lake Hills, located southwest of downtown, is one of Austin's highly-sought after neighborhoods.
NEIGHBORHOOD CULTURE
The area was incorporated in 1953 but truly flourished in the 70s' and 80s'. Today, West Lake is primarily home to families and long-time residents, alike. The natural landscape is characterized by winding roads flanked by limestone cliffs, rolling hills, and Lake Austin to the east. Needless to say, the beauty of West Lake is one of its major attractions.
FOOD AND ENTERTAINMENT
In recent years, West Lake has developed a small, but delicious, food scene, mostly serving residents to the area. Some downtown eateries have opened second locations in West Lake, including Sway, Taco Deli, Kerbey Lane, and Blue Dahlia. Other local spots include Marye's Gourmet Pizza, Las Palomas Restaurant & Bar, Texas Honey Ham, The Grove Wine Bar & Kitchen, and Salt Traders Coastal Cooking, among many more!
Lake Austin and the greenbelt serve as popular recreational spots. On any given weekend, residents and visitors flock to these areas to enjoy boating, water sports, kayaking, hiking, and waterfront relaxation.
Shopping in West Lake is mostly comprised of Barton Creek Mall, but there are also a wide variety of local boutiques sprinkled throughout, including Beehive, Olivia Shoppe, Anna Gray Gift & Jewelry, ADORN Boutique, Hutson Clothing Co., Ella Boutique, Buff City Soap, and many more.
SCHOOLS AND HOUSING
West Lake is served by Eanes ISD and is a highly-rated public school district, which is a major reason why so many families move to the area. The district is made up of six elementary schools, two middle schools, and one high school, all of which have earned the highest rating by the Texas Education Agency. Students consistently exceed state and national averages on the SAT and the ACT. Additionally, the district prides itself on being a 1:1 mobile device district.
The median home price in West Lake Hills is $1.6 million, but prices can easily exceed $6 million for lakefront or large properties. Types of houses most notably range from contemporary new-builds to traditional ranch homes to Mediterranean-style houses.