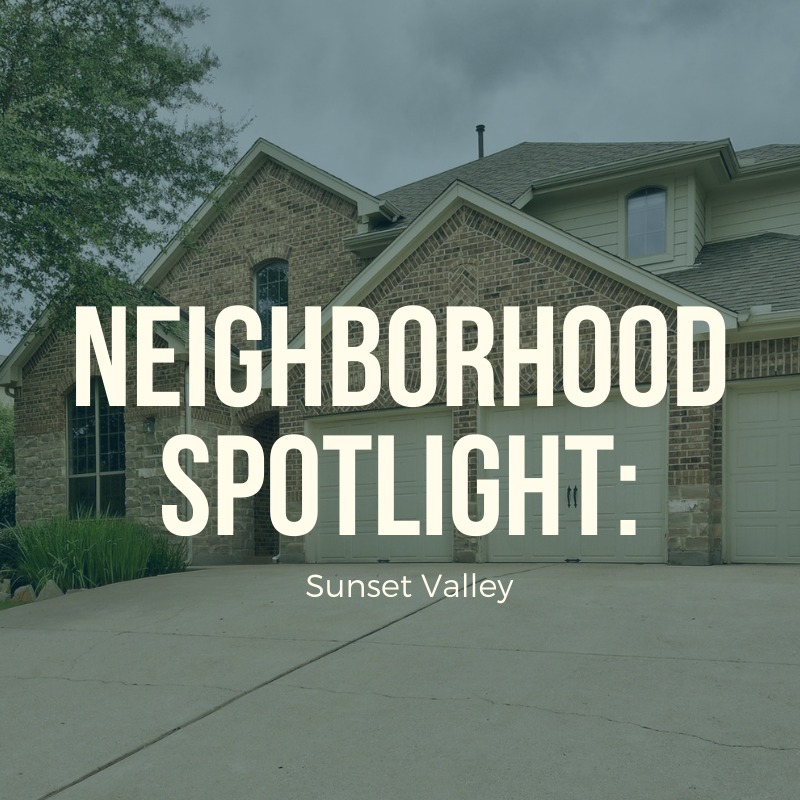 Located south of downtown Austin, Sunset Valley is a city in and of itself. It was founded in 1954 with the express purpose of "keeping a quiet, friendly way of life." Spanning just one square mile and completely surrounded by Austin, Sunset Valley is a quiet neighborhood enclave brimming with natural beauty.
NEIGHBORHOOD CULTURE
Sunset Valley places strong emphasis on nature. The city is characterized by mature trees, wide streets, walking trails, and conservation areas. The Gaines Creek Greenbelt is located on the northern side of Sunset Valley and is one of the neighborhood's many protected areas. Residents enjoy a quiet way of life complete with a strong sense of community, a respect for the natural surroundings, and the convenience of being surrounded by Austin. Drink your morning coffee while watching deer graze in the front yard, head to the local farmer's market in the afternoon and shop alongside neighbors who are friends, and then head make the short trip to Austin for a dinner out on the town. Sunset Valley truly offers quiet, serene living with convenience.
FOOD AND ENTERTAINMENT
The Sunset Valley Farmers' Market takes place every Saturday morning. It is one of our favorites in all of Austin. Stock up on locally-grown produce, fair trade coffee, and other artisan goods. While you're in the shopping mood, head to the Sunset Valley Village Shopping Center that serves as the hub of the city. There are a variety of local and chain retailers (Barnes & Noble, Old Navy, Carter's, Nordstrom Rack, Party City, and World Market to name a few), restaurants (Zoes Kitchen, Poke Austin, Fire Bowl Cafe, and Mad Greens for instance), and a handful of spas and gyms.
The prized jewel of Sunset Valley is The Sunset Valley Nature Area and Indian Grass Prairie Preserve. They connect to the South Hills Conservation Area and are complete with walking trails where you can experience the beauty of the Hill Country. Additionally, the Williamson Creek runs throughout and visitors can enjoy the running water after a long rain or explore the creekbed when it's dry.
SCHOOLS AND HOUSING
Sunset Valley is served by the Austin Independent School District. It routes to Sunset Valley Elementary School, Covington Middle School, and Crockett High School.
You'll find a variety of styles and prices of homes in Sunset Valley, most notably ranch-style or modern traditional with some folk Victorian sprinkled throughout. It's easy to find homes situated on large lots, if budget allows. The typical home value is over $883,000 in Sunset Valley.