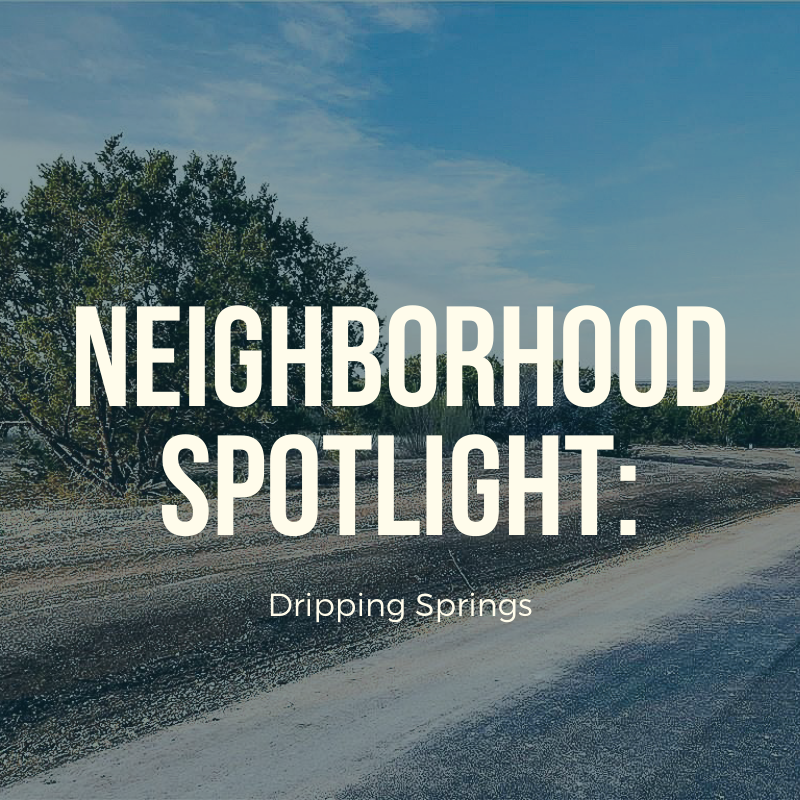 Drive 25 miles west of Austin and you'll come upon Dripping Springs, also known as "The Gateway to the Hill Country." Characterized by its beautiful natural landscape, Dripping Springs has earned a reputation as a friendly, down-to-earth, and active community. Because of this and its proximity to Austin, Dripping Springs has grown dramatically in recent years but still maintains its small-town charm.

NEIGHBORHOOD CULTURE
"Open spaces, friendly faces," is the punchy tagline that welcomes you to the City of Dripping Springs website, and for good reason. Known for its rolling hills, scenic river and creeks, vast expanses, charming wineries, and beautiful wedding venues; Dripping Springs lives up to its reputation. Plus, it was the first city in Texas to be designated an International Dark Sky Community.
Another of Dripping Springs famous monikers is "The Wedding Capital of Texas." It is home to over 35 venues, ranging from modern and elegant to rustic chic, which host more than 1,000 weddings a year.
FOOD AND ENTERTAINMENT
Dripping Springs is home to the one-and-only Hamilton Pool Reserve– a collapsed grotto formed over thousands of years from water erosion, into the awe-inspiring masterpiece that it is today. Complete with a 50 foot waterfall spilling over limestone cliffs, this may just be Dripping Springs' most precious attraction. Additionally, visitors and residents alike enjoy Reimer's Ranch park for hiking, biking and swimming.
For some, Dripping Springs draws to mind hill country landscapes. For others, it's the charming wedding venues that take center stage. And for the rest, wineries, breweries and distilleries, galore. This last distinction has become a huge part of Dripping Springs culture and a major part of what attracts visitors to the region. Some of the most popular include Deep Eddy Vodka, Treaty Oak Brewing and Distillery, Bell Springs Winery, Jester King Brewery, and Twisted X Brewing Company.
SCHOOLS AND HOUSING
Dripping Springs is served by the Dripping Springs Independent School District– a highly-rated district with nearly 8,000 students amongst its five elementary, two middle, and one high school.
From new-build architecture in planned communities to homestead farm houses sitting on tens of acres, Dripping Springs isn't characterized by one style of home. The median home price in the area is a little over $770,0000.