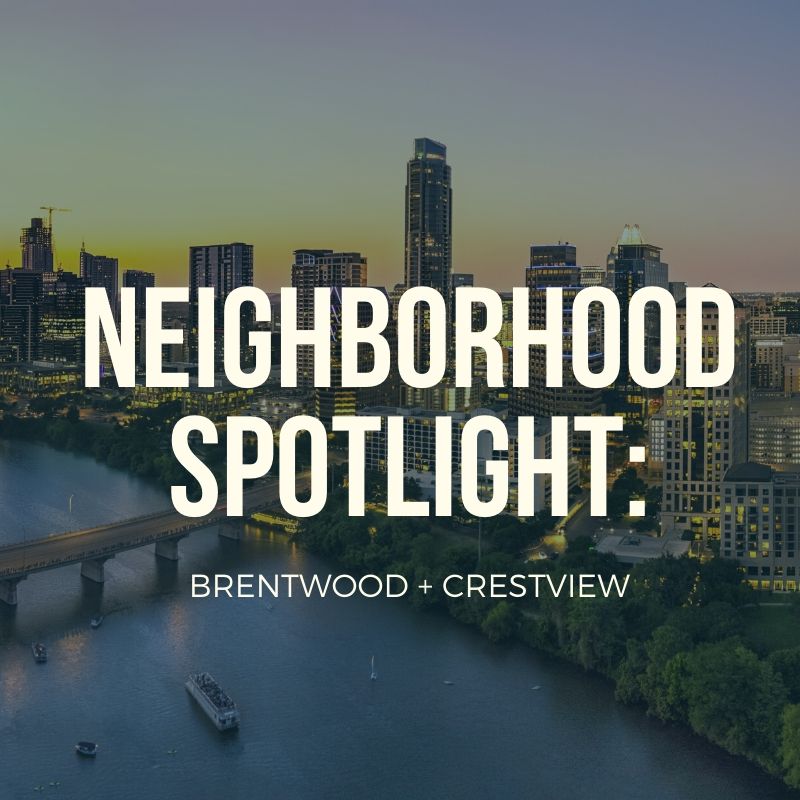 Nestled between Burnet Road and Lamar Blvd, just north of 45th Street sits the small, but mighty neighborhoods of Brentwood and Crestview. Built on land that was once used as cotton and dairy farms, Brentwood and Crestview were developed in the 50's, which you can see proof of in the original bungalows and mid-century ranch homes prevalent in the area.
NEIGHBORHOOD CULTURE
Brentwood and Crestivew flow into each other and could easily be mistaken for one neighborhood. Venturing through, you will see a variety of Austin icons from the 120 ft mosaic "Wall of Welcome" and the ever-changing big chair, to the beloved Top Notch Burgers and the former Minimax Grocery Store which is now an Arlan's. While exploring, you'll be sure to pass many friendly residents, neighborhood kids on bikes, and with a little luck and at the right time of day, you may even catch a porch concert or two. Needless to say this neighborhood is lively and active.
FOOD AND ENTERTAINMENT
What makes these two neighborhoods so unique is their mixed use. Brentwood is home to Brentwood Elementary School and Brentwood Park. The park spans over nine acres and is complete with a sand volleyball court, tennis courts, baseball diamonds, a pool, and playscapes. The park is the site of the annual Brentwood Days festival, which brings in live music, food, and entertainment (cancelled this year due to COVID-19) and the Violet Crown Festival. Walk a couple blocks north into Crestview and stumble upon the Crestview Shopping Center-- the hub of activity in the neighborhood. It is home to the popular Little Deli, an outdoor-seating, BYOB pizza joint that is packed on weekends. Next door is the Crestview Barber Shop and across the street sits the Violet Crown Clubhouse serving up snoballs, icecream, and arcade games. The annual Brentwood-Crestview Oktoberfest Celebration is held at this shopping center and offers beer, food, and fun for the whole neighborhood. At the edge of Crestview on Lamar Blvd is the Crestview Station, a commuter rail station for Austin's MetroRail with the retail and apartments, Midtown Commons, nearby.
SCHOOLS AND HOUSING
Both Brentwood and Crestview are served by Austin ISD and are zoned to Brentwood Elementary, Lamar Middle School, and MacCallum High School, some of the highest-rated in the district. Median home values for both neighborhoods range from $382,500- $407,900.Neighborhood Spotlight: Brentwood and Crestview