Neighborhood Spotlight: Bouldin Creek
27

Dec
Rick O.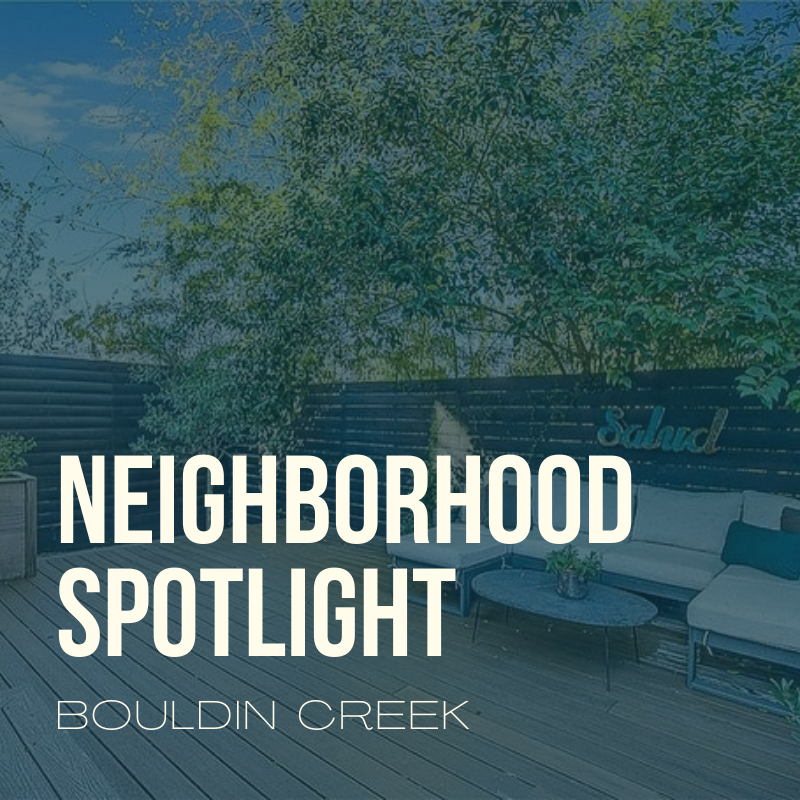 Bouldin Creek is one of Austin's oldest and most sought-after neighborhoods. Providing an urban-suburban feel, this area of Austin is bordered by South Congress Avenue to the east, the Union Pacific railroad to the west, Barton Springs to the north, and West Oltorf to the south. Bouldin Creek encompasses two main districts– South First and South Congress.

NEIGHBORHOOD CULTURE
Bouldin Creek is a quintessentially "Austin" neighborhood, and one of the oldest, to boot. Dating back to the turn of the 20th century, Bouldin Creek is a bustling and safe neighborhood, with so much to offer in terms of entertainment, culture, and housing. Whether you are a young professional wanting to be in the mix, a burgeoning family with a love of the outdoors, or a retired couple that is ready to downsize; Bouldin Creek has something for you.
The neighborhood has distinct character, due in part to its rich history. For example, the 23-acre grounds that are home to Green Pastures event space and Mattie's restaurant are located in Bouldin Creek. This famous property, built in 1894, was the childhood home of Austin-activist, John Henry Faulk. Additionally, there are several black churches in the neighborhood, paying tribute to its historic past, including the St. Anne African Methodist Episcopal Church, which was built in 1916.
According to the Bouldin Creek neighborhood association's website, "Bouldin Creek's most unique assets are its residents. From its historic south-of-the-river, affordable bungalows, the neighborhood has become home to diverse cultural groups ranging from generations of homeowners to new tenants; from old hippies to young techies. The result is an eclectic and vibrant mix of residents."
RESTAURANTS AND ENTERTAINMENT
There is no shortage of good food in Bouldin Creek. Grab a vegetarian breakfast at Bouldin Creek Cafe. Indulge in a five-course tasting menu with paired wine at Lenoir. Or keep it casual with a pitcher of margs at Polvos. Other popular restaurants in the area include Elizabeth Street Cafe, Perla's, Magnolia Cafe, June's All Day, Joann's Fine Foods, El Mercado, and The Soup Peddler, plus many, many more!
You'll spend a lifetime exploring all that Bouldin Creek has to offer. Go shopping along South Congress Avenue, catch a show at the Long Center for the Performing Arts, or soak up the great outdoors on Lady Bird Lake.
SCHOOLS AND HOUSING
Bouldin Creek is served by Becker Elementary, Travis Heights Elementary, Fulmore Middle School, and Travis High school within Austin ISD. It is also home to the Texas School for the Deaf.
Bouldin Creek's tree-lined streets are full of historic bungalow and craftsman-style homes built in the 1920s-30s, as well as new, contemporary builds and condos. The median price of a home in Bouldin Creek was $1.23 million as of November 2022.