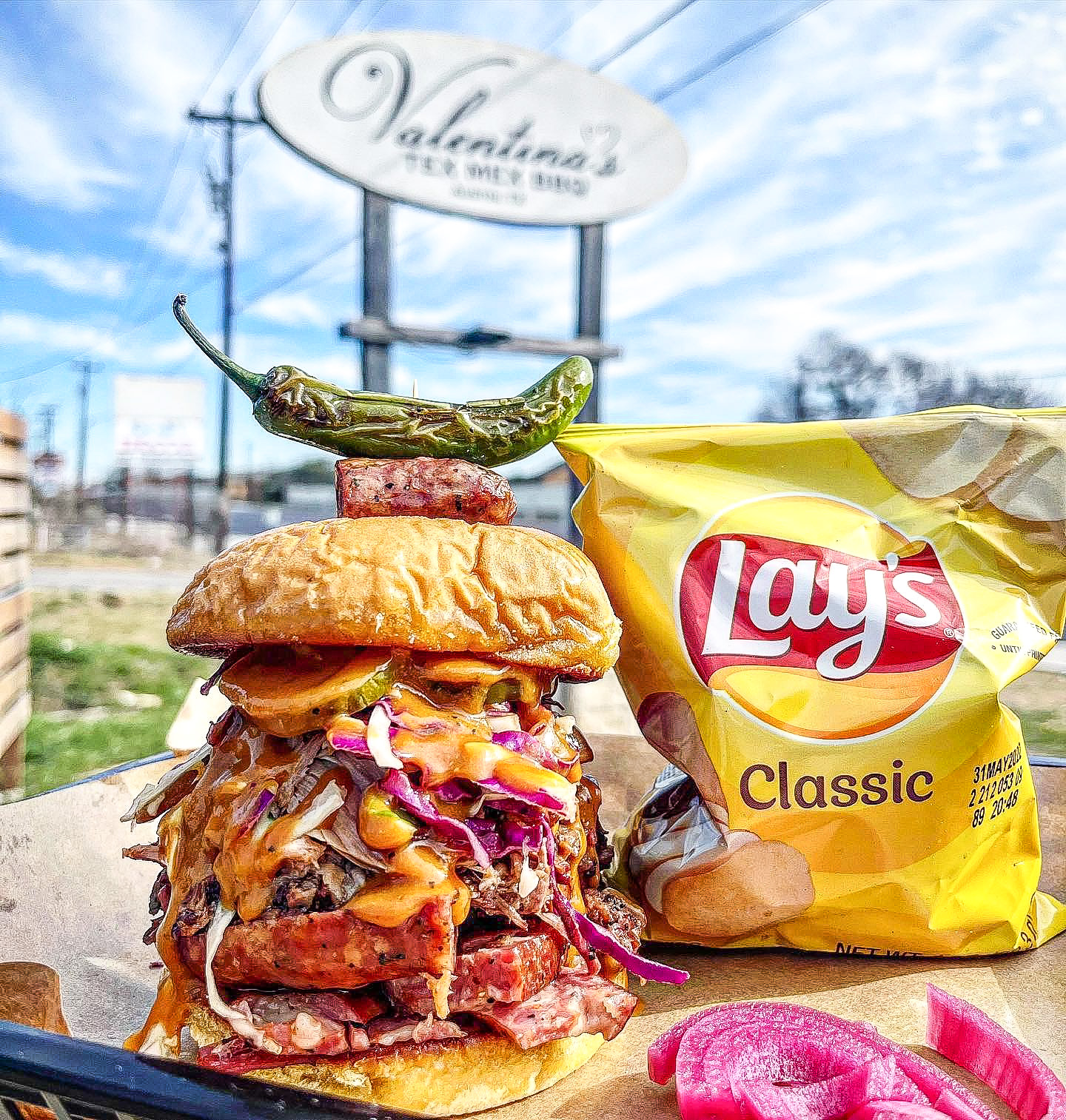 Sure, we are all for Austin's most iconic and frequented barbecue restaurants, a la Franklin's, Terry Black's, and Salt Lick. But many others rival the likes of these renowned establishments, without the long lines. From good, old-fashioned brisket and mac and cheese to a Tex-Mex spin on smoked meats, there are so many barbecue gems hidden in plain sight throughout the city.

Stiles Switch BBQ and Brew
Located on North Lamar in the Violet Crown shopping center, this old-school-style restaurant packs a serious punch with its mouth-watering meats, St. Louis-style ribs, oak-smoked wings, and Switch original sausage. The sides are worth mentioning, too. They've got your classics like mac and cheese, cole slaw, and potato salad, as well as some unexpected surprises like serrano fried brussels and hawg rub fries. Wash it all down with a cold beer, glass of wine, or specialty cocktail at Stiles Switch BBQ and Brew.
Valentina's Tex-Mex BBQ
Valentina's combines two Texas staples, Tex-Mex and BBQ while holding each to the highest standards. As one reviewer put it, "Valentina's Tex-Mex BBQ might be the truest expression of the fusion of two traditional Texas foods, and I happily surrender myself to its sorcery." Order mesquite-smoked meats by the pound or put them on a taco. This permanent food trailer is located in South Austin on Menchaca.
Micklethwait Craft Meats
Just a hop, skip, and a jump down the road from famed Franklin's is the equally as noteworthy but lesser-known Micklethwait Craft Meats. Named after pitmaster and owner, Tom Micklethwait, this food trailer has fed the likes of Jimmy Kimmel and Michelle Obama. If it's good enough for them, it's good enough for us!
House Park Bar-B-Que
While the restaurant located on West 12th St. is recovering from a fire, House Park BBQ is a casual, hole-in-the-wall type place serving no-frills meats and brisket sandwiches with classic sides like baked beans and coleslaw. With the slogan, "Need no teef to eat my beef," it's got to be good.
The County Line Legendary BBQ
Serving Austin across three locations, County Line has been supplying consistently succulent and delicious slow-smoked barbecue since 1975. The casual roadhouse decor and scenic views make it a fun, easy place to grab a bite to eat. Although the restaurant has seven locations and even an app, we think this restaurant is still one of the most underrated in Austin!
Photo credit: Valentina's Tex-Mex BBQ