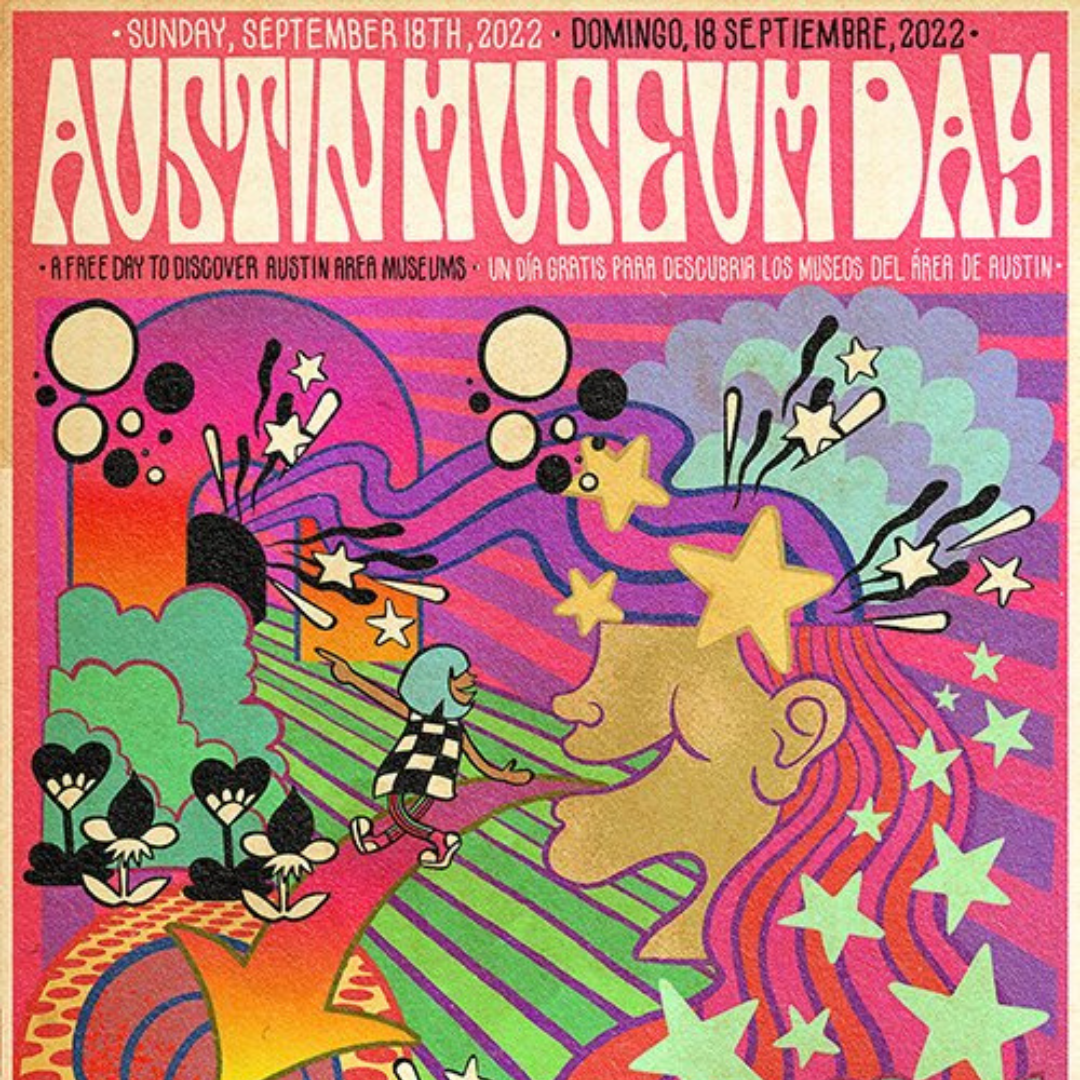 September 18th is Austin Museum Day, a community event offering free admission and special events in museums across the city. As a local, museums often go unvisited, so what better way to learn about the history, arts, and landscape of Austin than with a visit to one of the over 30 historic and educational locations participating in the event?

Arts
Art Galleries at Black Studios- Located at The University of Texas, AGBS chronicles Africa and the African diaspora through contemporary artistic expression and archival works. On Austin Museum Day, visit AGBS and create your very own print, inspired by their current exhibit.
Dougherty Arts Center- This award-winning cultural arts center showcases art in a variety of mediums including visual, performing, and digital arts. You are invited to the Julia C. Butridge gallery for a fun and interactive art experience.
The Blanton Museum of Art- Perhaps Austin's most-popular museum, The Blanton is a modern and contemporary art museum that holds a large collection of American and Latin American art, Italian Renaissance and Baroque paintings, prints, and drawings. Their current special exhibit is titled "Painted Cloth: Fashion and Ritual in Colonial Latin America."
Harry Ransom Center- This internationally-renowned humanities research center at The University of Texas gives insight into the interworkings of some of the finest writers and artists in history, helping the public understand and appreciate the art of literature, photography, film, and the performing arts.
Mexic-Arte Museum- Learn about traditional and contemporary Mexican, Latino, and Latin American art and culture at the Mexic-Arte Museum. You are invited to create paper marigolds for their community Día de Los Muertos alter this Museum Day.
Women & Their Work- This cornerstone of the Austin arts scene gives reach and support to women artists and educates the public about the importance of their works. Join them in celebrating Rachel Wolfson Smith's The Future Is Behind Us exhibit and create your own nature drawing.
History
Briscoe Center for American History- Get lost in the center's archives of historical documents and materials relating to Texas history. Mine the collection to learn about figures, events, and politics that have shaped our state.
Brush Square Museums- Home to the Joseph and Susanna Dickinson Hannig Museum, and the O. Henry Museum, Brush Square is offering interactive activities this Museum Day, fit for the whole family.
Bullock Texas State History Museum- Explore three floors of exhibits, full of historical artifacts, galleries, and special exhibits. For Austin Museum Day, the space is paying homage to Canary Islanders through special family programs combining art creation, activity stations, and in-gallery discovery centers.

Texas Music Museum- We all know that Austin is the live music capital of the world, but the state as a whole is rich in musical history. Discover the Texas artists that have contributed to our great state's diverse traditions through exhibits, music, and special tours.
Texas State Cemetery- Pay respects to the great figures who have sculpted and shaped Texas history at the Texas State Cemetery located a mile east of the capitol building. State and federal Texas politicians are buried at the Cemetery, in addition to other notable figures including Author James A. Michener, Artist Tom Lea, Folklorist James Frank Dobie, and American Sniper Chris Kyle.
Family
The Thinkery- This interactive children's museum prioritizes STEAM-based fun and learning with a hands-on approach. Do, make, experience, and play at The Thinkery!
Austin History Center- This is the place to go to learn about the history of Austin through the center's rich collection of preserved information. This Museum Day, bring the whole family to try out print and zine making and head to the "Preservation Station" to learn how to preserve your family's history.
Lady Bird Johnson Wildflower Center- Discover the beauty of native Texas flora and fauna at the Lady Bird Johnson Wildflower Center. With over 900 species and miles of trails, the center promotes sustainability and conservation through its gardens, education and outreach programs, consulting work, and research projects.
Pioneer Farms- Teach your kids about the olden days at Pioneer Farms. Visit themed historic areas from the 19th century including a Tonkawa encampment, a German Emigrant farm, and a rural village. Step back in time and learn about Texas history first-hand.
These are just a handful of the locations participating in the enriching experience that is Austin Museum Day. Visit austinmuseumday.org for a full list of participants and to learn more about each one.