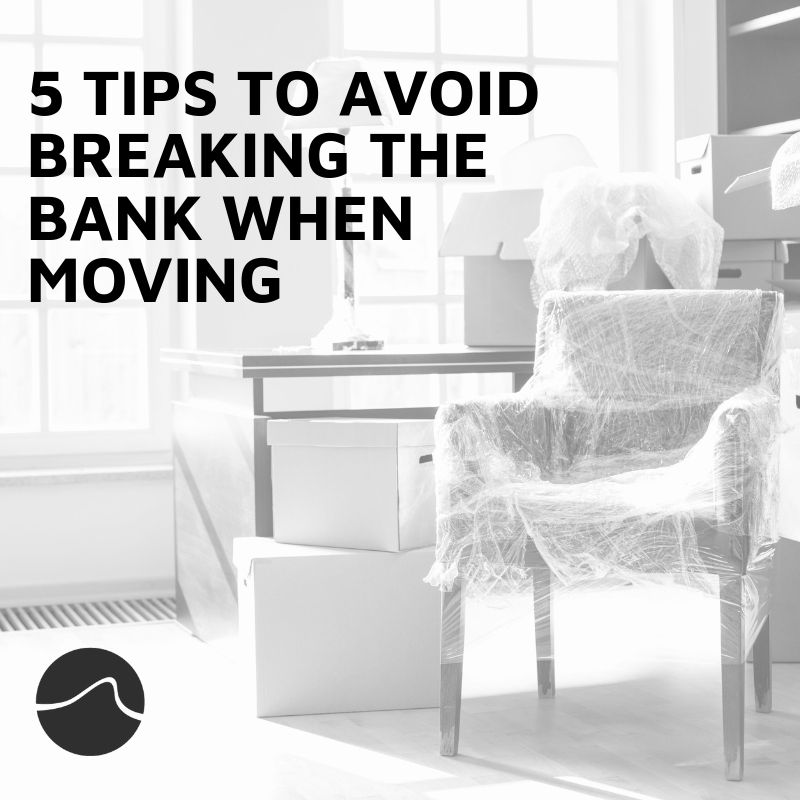 You are ready for that next big move! You house has sold, the closing date is approaching, and you are already picking out paint colors for the new house.
Although exciting, moving a big undertaking (but it's mostly exciting). Still, if you aren't careful, the costs of moving can really add up. But don't worry! With proper planning you can avoid racking up hidden costs that may not have crossed your mind in the beginning.
Check out these five tips to avoid breaking the bank when moving so your next move is nothing but smooth:
Scout for free boxes
Buying your own boxes can cost you hundreds of dollars depending on if you are moving from an apartment or house. Regardless, you never need to pay for boxes as it's likely that your friends, family, neighbors, or acquaintances on Nextdoor have plenty of boxes they have been waiting years to give up. All you have to do is ask around. Another great option is Craigslist. You can find tons of free boxes there.
If all else fails, most grocery stores, and nearly all liquor stores, have an ample supply of inventory boxes which happen to be the perfect size for moving. All you have to do is go in and ask. In fact, this might be the most convenient option considering you know ahead of time they'll be plenty available.
Buy furniture online
When planning to move into your new home one of the best parts is envisioning how you want to decorate your new space. Who doesn't love trolling Pinterest for entryway and coffee bar inspiration? With so many new decor ideas floating around in your head, it can be tempting to want to start from scratch. But it may not be in your budget to purchase all new furniture. However, with the recent disruption of the furniture industry moving online, shopping for new furniture has never been so convenient and affordable! For example, many online mattress retailers offer their products for the third of the cost traditional retailers do. Plus, they provide free delivery and a generous trial period to try out the mattress in your home. This is only one example of an new way of shopping for furniture that can save you thousands.
Not only is furniture less expensive online, but you'll save yourself some back work and keep money in your wallet. Shopping online kills multiple birds with one stone, and that's how a savvy saver does it.
Use portable moving containers
You have several options when transporting your items. You can hire movers, rent a truck, or do it yourself. Another option is to manage a hybrid operation by reserving portable moving containers. There are about ten main distributors of portable containers around the country with similar fees. The services will drop the containers off in front of your house and give you up to a week to load them. Then they handle the transportation to your new home where you have another week to unload. This is a cost-effective way to move your stuff without having to worry about all the logistical aspects of moving.
Plan well in advance
Really, for anything, planning is key. From changing your mailing address to calling your utility and service companies to stop/start service. The one major benefit to planning in advance is that you can often save hundreds of dollars simply by warning your utility companies, internet, and cable service of your move. By cancelling and resetting up service you may be subject to additional fees. However, by transferring your service those fees tend to be waived. While many services will notify you of the difference many will not, and it can be costly.
In addition to planning out service and utility transfers, take your time to schedule the maintenance you'll need to perform on your home before you move out.
Cushion with clothes and towels
Sure, we all love bubble wrap, but did you know your clothes, towels, and other linens are the perfect substitute for providing cushion for breakable items? The best part? It's free! As a bonus, you can also save packing space by using clothes to fill in the extra space in boxes.
Moving doesn't have to be stressful. Learning how to shop savvy and reduce costs will save you a lot of unnecessary anxiety. Plan ahead, buy your furniture online, and make your new house a home.