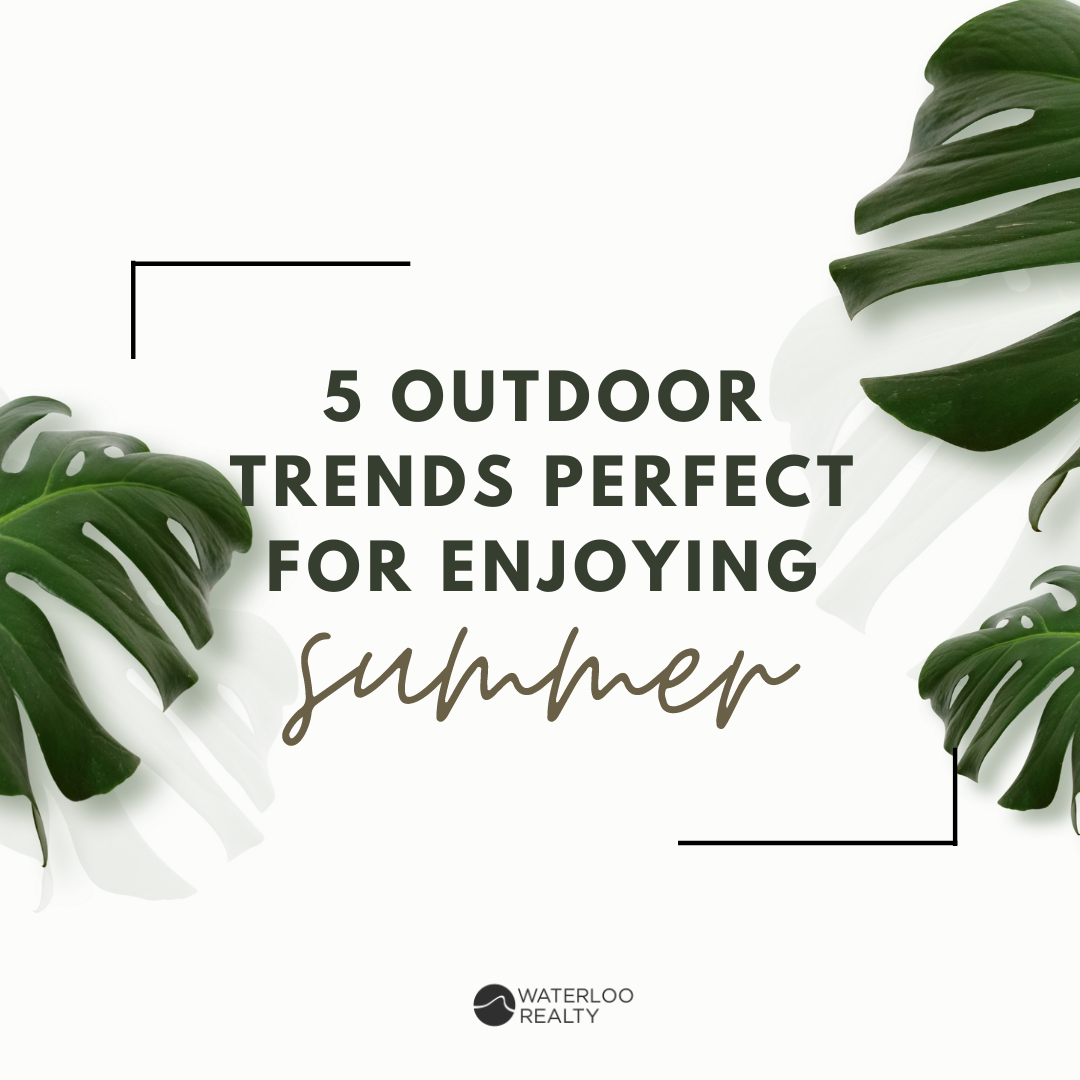 Summer is meant for outdoor living. And there's no easier way to expand your square footage than by equipping your yard or balcony with a little bit of furniture and a whole lot of style for an outdoor space that is sure to get as much play time as your air conditioned living room. Here are five trends we are spotting this year that are easy to attain.
Beat the Heat
The pandemic made outdoor gathering a necessity for keeping our relationships strong, and we expect the movement to continue with investments made in products that make our outdoor spaces more comfortable in extreme weather. Make your space usable year-round with heat beating amenities like a retractable sun shade or pull-down screens for the patio. Fans go a long way in the Texas heat and even help keep mosquitos at bay.
Picture: https://www.pinterest.com/pin/1407443623967920/
Focus on Flora and Fauna
We're seeing a move towards planting native species in our yards. Some Texas beauties that thrive in the summer include lantana, verbena, cherry sage, century plants, firebush, and even lavender amongst many, many more! The options, textures, colors, and smells are endless! Plus, native plants require much less effort on your part.
Last year we saw tons of neighbors planting their very own vegetable and herb gardens and we think the movement is here to stay! Vegetable gardens are not only great for the kitchen, but add greenery and color to your outdoor space. And let's face it, there is nothing quite like a home-grown tomato with a little salt and pepper on a hot summer day.
Picture: https://www.pinterest.com/pin/3096293485374380/
Try a Stock Tank Pool
If you've always dreamed of a place to cool off in your own backyard, but budget or space won't allow for it, try a stock tank pool. We're seeing them in a variety of bold colors and patterns for a one-of-a-kind look. If a stock tank pool still feels like too big of a project, opt for a blow up pool. They aren't just for kids anymore. There are a variety of brands that cater to both kids and adults with pools that come in fun prints and colors.
Picture: https://www.pinterest.com/pin/492649949308371/
Keep it Layered
Who said coziness is just for the winter? Make your outdoor space a place where you want to relax and chill with lots of layers in the form of rugs, pillows, and plants. Add softness to your space with a washable, outdoor rug and sunbrella-covered pillows. Cluster potted plants between chairs and throw in a pouf or floor pillow to maximize seating. A tapestry hung on the fence or outdoor wall of your house adds warmth, texture, and style.
Picture: https://www.pinterest.com/pin/3448137205022898/
Move Into the Front Yard
The front yard isn't just for curb appeal anymore. We're seeing this part of the home being used for hangouts, drive-by parties, vegetable gardens, and more! Get more out of your home and welcome in the community with a picnic table or a set of adirondack chairs positioned under a shady tree out front. It's the perfect set-up for doing arts and crafts with the kids, hosting a dinner party, or for unwinding after a long day.